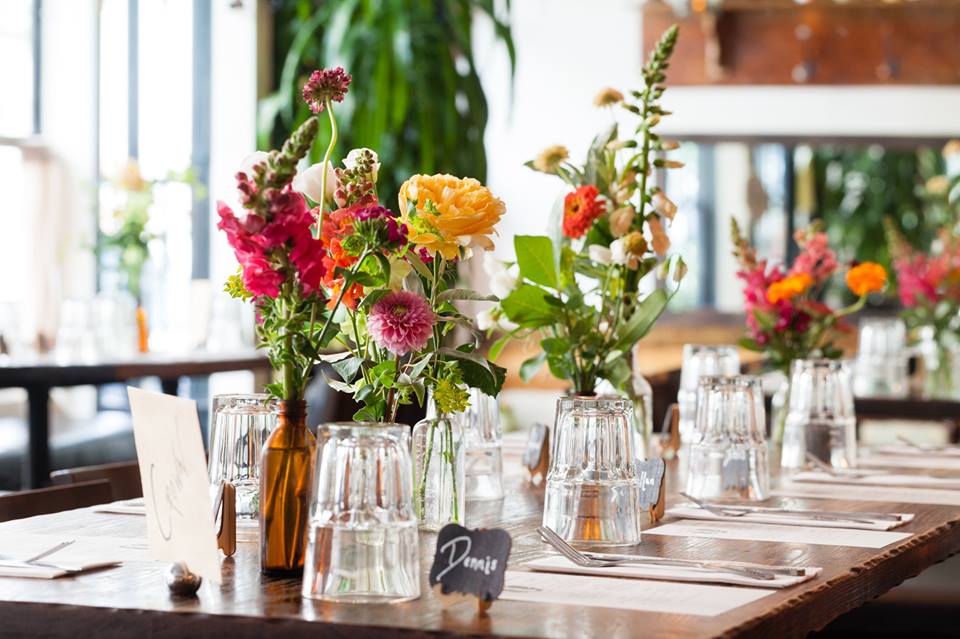 If you're anything like us, your wedding Pinterest board is filled with dreamy bouquets, glamorous centerpieces, and fancy flower crowns. But will those flowers be reasonably priced or even available for your wedding? That's the million dollar question (not literally)! So, today on the blog we are talking about in season flowers, specifically in the northeast!
Below, we have broken down some flower options to focus on in each season, as well as pricing and other handy tips. However, it's important to also do your own research because there are a lot of flower options out there and seasonal flowers at the Pollyanna HQ may not be the same as in your area. Let's get started!
Spring/Summer
The hotter months require flowers that aren't as thirsty as most. You may notice that gerbera daisies and peonies are popular around this time, but unfortunately they wilt within hours of being out of water. Instead, opt for zinnia or dahlias. Some other good options are, garden roses, hydrangeas, and alstroemeria lilies. These flowers will not last as long out of water as gerbera daisies and peonies but they should last long enough to get bang for your buck. If you are planning your wedding in the northeast, all of these flower choices should be reasonably priced. the If you are looking for something more outside-the-box, try succulents. These do best in the summer but they are available year round.
Fall/Winter
Finding a wide range of flowers in the colder months in the northeast can be more challenging.
Some flowers that are in season in the Fall and Winter are roses, daisies, and, sunflowers. Other options that will allow you to make your arrangements fuller are delphinium and waxflower. You may often see that a lot of couples go "flowerless" during weddings this time of year because their options are limited. Instead of going the "flowerless" route, you could try using greenery or other elements that are in season during this time of year. We have even seen some couples choose succulents — remember, they're available year round — as their wedding "flowers."
Pricing
Choosing in season flowers will always be a cheaper option and it helps the environment! it's a win-win! Flower prices increase when flowers are not available locally during your wedding month. This means florist and flower shops have to pay extra to get these flowers shipped to them, which means the florist or flower shop passes on the cost to you. A good example of this is peonies. These pretty little flowers are always in high demand and sellers will charge you a lot if peonies are out of season in your area.
Tips
Obviously, our most important tip is to choose in season flowers when it comes to your wedding. This will allow you to cut costs, make it easier on your florist and help the environment.
When choosing a florist, think about choosing someone that grows their own flowers.This means they are highly knowledgable, they consistently maintain their stock, and you may even be able to go and see the flowers in person before the big day. This is a huge bonus! If you are in NYC, check out Molly Oliver Flowers!
There is also the option to do silk flowers! Silk flowers will definitely keep costs down and you can keep your arrangements for as long as you want!
If you really want real flowers but need to keep costs down, think about going through a wholesaler and buying in bulk. A simple Google search should return lots of hits — there are a lot out there. Keep in mind, if you go this route, you will need to spend some time cutting stems and putting your arrangements together. This needs to happen close to your wedding day (if not on the wedding day) so the flowers remain fresh.
xo
Kristina