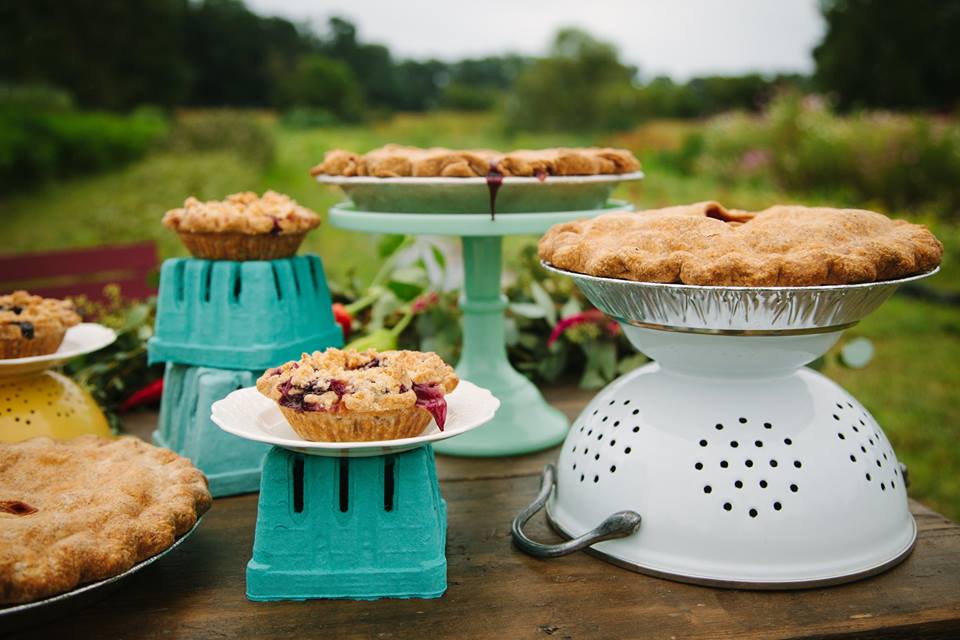 Over the past few years we have noticed a dramatic shift in the wedding industry toward couples being more environmentally conscious when planning their weddings. And with more couples getting involved with this issue come questions regarding this topic, which is why we dedicated one of our YouTube videos to it and are writing this blog post!
If you missed our YouTube video on this topic you can watch it on our channel.
Let us drop some serious knowledge on you. Did you know that the average wedding of 100-150 guests produces around 400-600 lbs. of waste? Did I just blow your mind? Ya, that statistic is mind boggling. For more information on this, head to Going Zero Waste or Huffpost.
I want to start by defining what we mean by being "environmentally conscious" while planning your wedding. We mean being aware of the actions and the choices you make and how that affects our environment — reducing the negative effects and increasing the positive effects.
We are talking four big points to being eco-friendly when planning your wedding. So let's get to it!
First, let's talk venues.
When looking for a wedding venue, think about choosing a space where you can do everything. What I mean by that is: you can get ready on site, take your photos, have your ceremony and reception, and even be able to walk to your hotel at the end of the evening, all at one location.
Benefit: This will greatly cut back on your carbon footprint, be super convenient for your guests (especially those out-of-towners), make your day a little less stressful, and help to eliminate any possible error or delays that could occur when juggling multiple venue spaces with large groups of people. To us, these benefits outweigh having multiple locations on your wedding day.
For more venue related topics, check out our most recent blog post!
How to book your wedding at one of DC's icon monuments
How to book your wedding at one of DC's parks
Second, we would suggest creating a wedding website and not mailing out invitations.
Creating a wedding website can be a huge bonus! A website will allow you to put as much info about your wedding as you want and gives you the opportunity to send out invitations online rather than mailing them. And your guests then have the opportunity to RSVP through your website rather than mailing back a physical RSVP card, which removes room for error.
Benefit: By sending out invites online, you do not have to abide by your normal size limitation on a physical card. This will allow you to be super clear to your guests so nothing slips through the cracks. Your guests will only have to go to one spot to see everything they need to know about your wedding, they wont have to worry about loosing the invitation, or wondering if they mentioned their food allergies. All of this can be done on your wedding website! And lastly, this will benefit our environment by saving trees and paper! Which is a huge plus!
Next, I want to talk guest list.
I know this part can be tough, you have your family weighing in on who to invite, and you and your partner have your own ideas of who will be invited. It's most important to be surrounded by your closest friends and family on your wedding day, not to invite everyone you have met and hung out with from high school on. Most couples have a budget when planning their wedding so let me break it down for you like this — every person you invite increases how much you spend. For example, as you increase your guest list, you limit your venue choices. This also means that your floor plan options diminish. And the list goes on from there. A large guest list also increases the amount of waste you'll produce.
Benefit: The benefit to having a smaller guest list is that you get to spend quality time with your closest loved ones and really relish in those moments. A smaller guest list means less traveling and you will produce less waste, all cutting back on your carbon footprint.
And lastly, flowers.
If you choose to have flowers at your wedding, we would suggest choosing flowers that are in season and placing them in compostable or reusable vases. This can be accomplished rather easy. You can start by speaking with your florist or planner to figure out what types of flowers you are looking for and which ones are in season during your wedding. For vases, you can check with your florist to see if they have any vases you could borrow or rent for your wedding. Often times florists have a variety of vases that they reuse for multiple weddings. If they don't, look around your house, or talk with your friends and family. Maybe you can come up with an eclectic group of vases that tell a story. That could be a fun element to your wedding that maybe you didn't think of.
Also, are you a plant owner? If so, bringing your own plants could be a great way to warm up your venue space, especially if you are not hiring a florist.
Benefit: Choosing in season flowers will help lower your carbon footprint. Using compostable or reusable vases will cut back on waste. And following your wedding, think about donating your flowers, maybe to a nursing home or a church. Did you know you can compost your flowers? You sure can! Most compost companies can be found at a local farmers market, you can research your area and see where your closest compost is.
For more information on budget friendly wedding flowers, head to our blog post on 'In season wedding flowers'. Or check out our video on our YouTube channel!
xo
Sarah