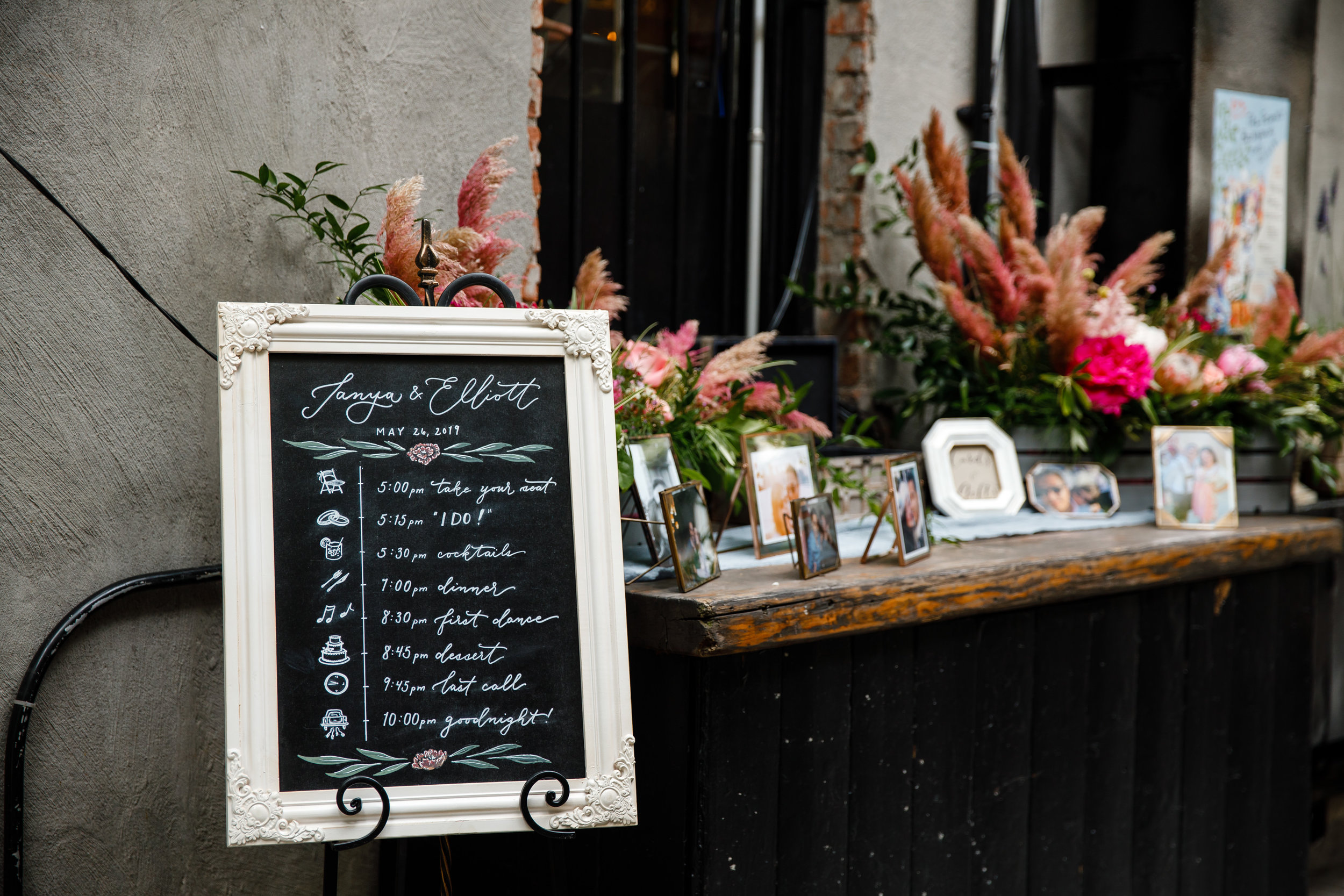 Signage is always a nice added detail, but do you really need it at your wedding? How do you know? It's important to determine this early on when you are working on your overall budget because those little details can add up!
We have put together five important items to consider when figuring out if signage is right for you.
1. The size of your guest list
The size of your guest list is a key factor. If you have a larger wedding you should think about adding some signage – the more people you invite the more complicated the logistics become. But, the more direction you give your guests using signage, the smoother and more efficient your wedding day will run.
2. The type of venue you book
Think signage if your wedding takes place in a historic venue or a museum. These types of venues often have rules and restrictions you have to follow. It may be helpful to inform your guests of those restrictions through decorative signage that matches your wedding style.
3. Venue floor plan
If you are having an indoor/outdoor wedding, possibly spread out on a larger property, or if you have a wedding that will take place inside, on multiple levels (3,4,5 floors), signage could be super helpful! Large, complex venues where your events are more spread out end up posing more problems than you'd think. Confusion could occur if guests are unsure where to enter for clear access to the ceremony site, or which direction to travel to get to the dinner location, or most importantly, where the bathrooms are located!
4. Decor + non-traditional wedding aspects
If you are incorporating a lot of decor and/or unique interactive elements into your wedding, your guests may find informative signage helpful. For example, if you are setting up a DIY photo booth or a multi-step creative guest book idea, it would be helpful for your guests to understand what each area is set up for and how to do everything correctly. This simple added step will make your planning and creativity worth it and allow the guests to have fun engaging with your creative ideas.
5. Dinner seating
If you have a non-traditional seating arrangement for your wedding, signage will come in handy! Whether you have a formal sit-down dinner with assigned seating or a more laid back partial seated dinner service, informing your guests on what your dinner looks like will allow the transition from cocktail hour to dinner to run smoothly. This may mean having a large escort board listing where guests are seated or it may involve a smaller sign telling guests that dinner will be more relaxed and to enjoy mingling, snacking and dancing!
Signage we often see includes: welcome sign, seating chart, menu(s), bar signage (e.g. signature drinks, specify drinks), favor table sign, guestbook sign, in memoriam sign, dessert sign(s) (e.g. food allergies, story behind desserts chosen, etc.), bathroom signs, directional signs, unplugged wedding signage, ceremony seating sign, flower crown making sign, gift/donation table sign, DIY photo booth station sign
xo
Sarah